#VirtualRitual – Each weekday our friends from Penn, including Students, Staff, Faculty, Penn Religious Communities Council and other voices from campus will be sharing the ways their spiritual rituals have adapted while staying at home and as they connect to their spiritual communities remotely.⠀⠀⠀⠀⠀⠀⠀⠀
Today Lyn Newbrander, Advisor for International Students, Inc at Penn shares:
Freshly Baked Bread
During our time of quarantine, my husband and I have been worshipping online with our church community.  City Church's service ends with a celebration of remembering Jesus' ultimate sacrifice for us through His death, which makes my relationship with God possible.  At City Church, various members bake bread for this celebration, and other members of the congregation, including my husband, serve us as we go forward to take bread and wine (or grape juice).  An Italian friend of mine is one of those who bakes the bread, and it is truly a taste of heaven on earth.
During Covid-19, we gather our own wine or juice, crackers or bread, and our minister leads us through this ancient ritual via YouTube. I have missed seeing people I cherish walking down the aisles of our meeting place to receive the bread and wine.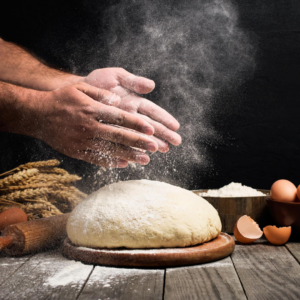 One day, I decided to try baking my own bread in preparation for this practice.  Baking my own bread means I start the night before in order to have enough time for the bread to rise and finish baking by 10:30 when our service starts.  Now on Sunday mornings, the smell of baking bread fills our home, and as I pull it from the oven, I realize that in spite of often worshipping in my living room, I'm actually preparing more for Sunday morning than I did when we walked up the street to West Catholic, where we meet.  I'm starting on Saturday evening, thinking intentionally about the following day.  During the service, I'm texting the peace of Christ to my adult children who are logging into other services, to my prayer group, and to a few of the friends who would ordinarily seek me out on Sundays to "pass the peace."
My husband and I break the bread and celebrate together, and I feel a deep sense of connection to believers everywhere who participate in this sacred ritual.  All of my senses are involved:  the rich smell of baking bread, the warmth of the bread as I slice off hunks, the visual beauty of a crusty loaf, the sound of the familiar words spoken through the ages coming through my computer, and the exquisite taste that reminds me that Jesus is the Bread of Life to me especially during Covid-19.  He is where I find all that my soul needs, and He has provided others in my life who give their own "bread" in the form of nourishing encouragement and prayer.  I find myself profoundly moved each Sunday and am grateful for this virtual and non-virtual ritual.