Meeting with our Chaplains
We know your college experience at Penn will be exciting, rewarding and challenging. In those times of challenge we are here to help you.  Whether you need a listening ear or are experiencing stress, grief, family illness or any other situation please reach out for help.
You can contact us at 215-898-8456 on weekdays or contact our chaplains directly.
Grief Circles
Monthly processing space for students with our Chaplains and a group of peers.  Contact Sana with questions.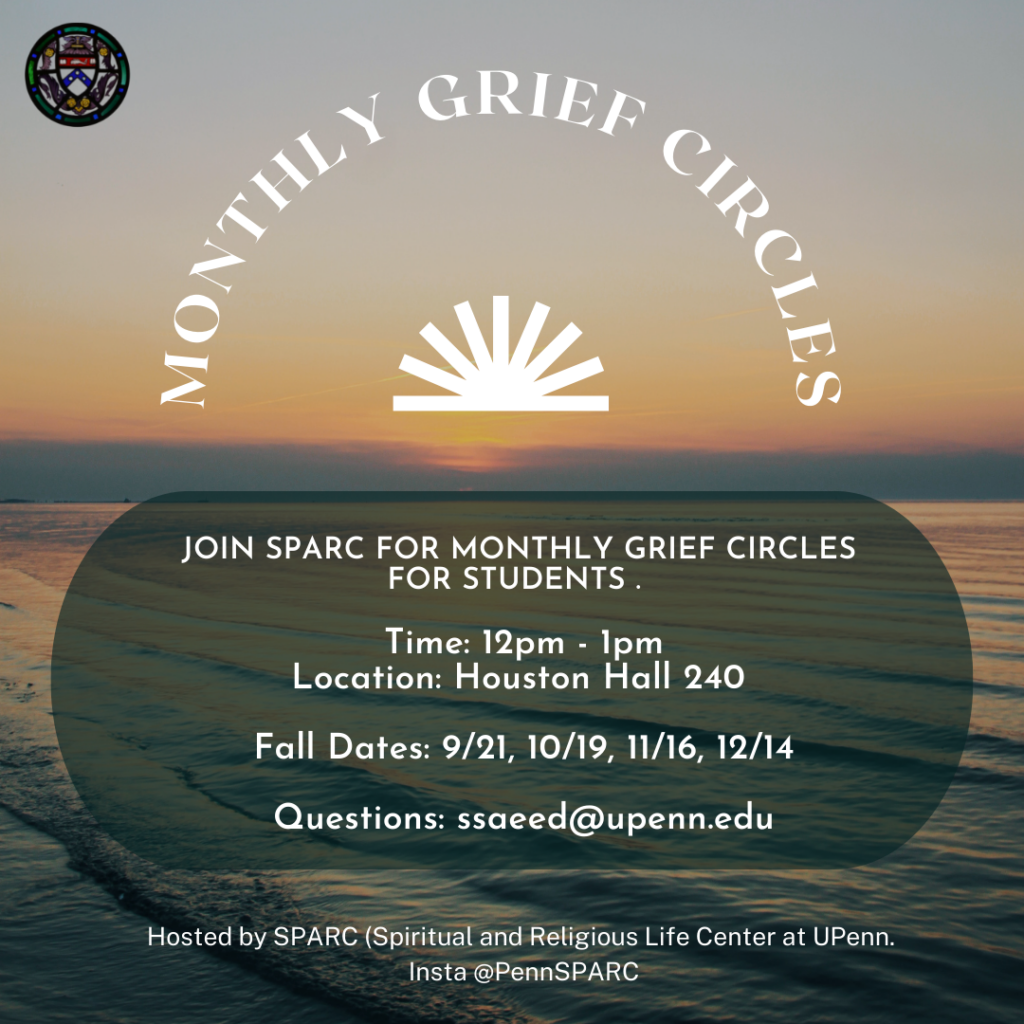 Resources on Campus
The Office of the Chaplain is part of a wider community of support at Penn.  There are many resources available for students, faculty or staff in need; you can see a partial list of these resources below.  If you are unsure of the best resource for your situation we are glad to help guide you to the best place.
If you are looking for support from a specific religious community please view the list of contacts available here and you can always contact us for help in making a connection.

Wellness at Penn is dedicated to caring for students during their academic journey while creating a campus-wide community of care.  At Penn we approach Wellness holistically through inclusive, innovative, and impactful initiatives that engage the eight domains of Wellness: physical, emotional, social, intellectual, environmental, financial, occupational, and spiritual wellness. You can also access our Student Health & Counseling site as well as Public Health & Wellbeing programming directly through the Wellness at Penn site.
Emergencies & Public Safety
In case of emergency dial 215-573-3333 or 511 from any campus phone to reach Public Safety
Help Line – 215-898-HELP (4357)
24-hour-a-day phone number for members of the Penn community who are seeking time sensitive help in navigating Penn's resources for health and wellness.
Student Resources
Medical Services – 215-746-3535
3535 Market St, Suite 100
Counseling Services – 215-898-7021
3624 Market St, 1st Floor
RAP Line – 215-573-2RAP (2727)
Reach A Peer help line, available 9pm – 1am
Student Intervention Services (SIS) – 215-898-6081
The SIS Team assists the University community in handling emergencies or critical incidents involving the welfare and safety of students
Emergency & Opportunity Funding
Enrolled Undergraduate, Graduate and Professional students may apply here for financial assistance
Special Services – 215-898-4481 (215-898-6600 – off hours)
Support services from the Division of Public Safety
Weingarten Learning Resources Center – 215-573-9235
3702 Spruce St
Stouffer Commons, Suite 300
Staff/Faculty Resources
Employee Assistance Program (EAP) – 888-321-4433