#VirtualRitual – Each weekday our friends from Penn, including Students, Staff, Faculty, Penn Religious Communities Council and other voices from campus will be sharing the ways their spiritual rituals have adapted while staying at home and as they connect to their spiritual communities remotely. ⠀⠀⠀⠀⠀⠀⠀⠀
Today Tucker Else, Ministry Director of the Christian Union at Penn, shares:⠀
"O our God…We do not know what to do, but our eyes are on you." – 2 Chronicles 20.12
In the past few months, my spiritual disciplines – my daily rituals – have become somewhat rote. I go through the motions of reading Scripture, prayer, and fellowship with community (with much less community than I enjoyed 5 months ago).
Back in the old-days (prior to Covid-19), music was an important but taken-for-granted aspect of my life. Whether it was old Motown, alt-country, or French rap, my playlist choices were easy to enjoy and pretty arbitrary. If I wanted to listen to Gospel…great. R&B…good stuff. Even some sad British indie music…sounds interesting. But over the course of these last 5 months, I've developed the same resigned "meh" to music as I have to my spiritual disciplines. Just some background noise. Nothing more.  As long as it gets me through a 30-minute run, great.⠀⠀⠀⠀⠀⠀⠀⠀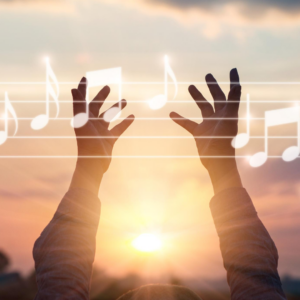 It was on a drive to through New Jersey about a month ago where I wondered if in the midst of struggles with anxiety, uncertainty about the future, and slow-burn dread about life during Covid-tide (hate to sound too melodramatic, but there have been days…) there might be some comfort in music. Old stand-by's like The Cure, Joy Division, Marvin Gaye, or Radiohead have become just a bit too bleak. But a song about the Gospel, the hope found in Jesus Christ, a reminder that how I feel at this moment isn't the final word in how things will be…maybe in the midst of uncertainty and frustration there are glimmers of hope. So, I put on the Reverend F.C. Barnes, a North Carolina minister and musician. It wasn't a panacea, but for a moment the proverbial clouds parted. There's an old hymn that goes like this: "Turn your eyes upon Jesus, Look full in His wonderful face, And the things of earth will grow strangely dim, In the light of His glory and grace."
This has become a daily ritual. Scripture, prayer, and then music. But not just any music. Music that turns my eyes to hope. Whatever that music is for you, take a moment to stop, listen, and remember. Even if we aren't sure when or how this particular season ends, there is hope. In those moments when I feel incapable of worship, it has been helpful to hear those who can worship for me.