#VirtualRitual – Each weekday our friends from Penn, including Students, Staff, Faculty, Penn Religious Communities Council and other voices from campus will be sharing the ways their spiritual rituals have adapted while staying at home and as they connect to their spiritual communities remotely including intentional making daily activities into spirit building rituals, like dog-walking, cooking, baking bread etc.⠀
Today Elana Burack C'19 shares: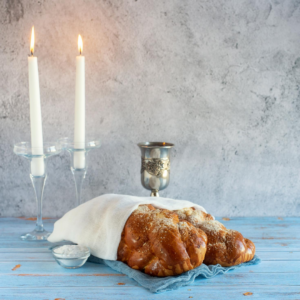 Although I moved back in with my family and have been living with my parents and sister since April, there are days that go by during which I hardly see them. The chaos of working from home, classes, phone calls, homework, and various appointments tethers us to our own personal daily routines, and there's little time for overlap. Shabbat dinner Friday nights has become our designated time to close our laptops, put down our phones, and block off our calendars for a much needed evening of togetherness. We light candles, sometimes attend a virtual service, and sit down for a meal together. We chat about the week, how my sister's classes have been, what crazy things happened at work, any news of the day; we spend time guessing the ingredients in each dish and giving (sometimes unwarranted) suggestions ("more salt" or "just a little sugar"), referencing obscure movie lines, and inevitably break into fits of laughter. Truthfully, these things in and of themselves are not so extraordinary; rather, it's the simple act of gathering that serves to elevate them. This connection is the nourishment I crave, and no amount of Zoom calls or Facebook messages can satisfy me the way a night around the table with my family can. And so, with eager anticipation, I await the Shabbat to come.