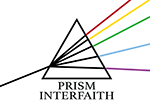 PRISM (Programs for Religion, Interfaith & Spirituality Matters) is Penn's student interfaith leadership group dedicated to advancing knowledge about religious life and promoting interaction among the various religious groups on campus.
The mission of PRISM is two-fold:
Interfaith and Communication

Promoting interactions among the various religious groups on campus through discussion, prayer exchange, and innovative programming. Additionally, our structure ensures that consistent communication exists through our board between the various groups.

Advocacy and Education

As religious identity is a major part of the lives of so many at Penn, it is imperative to foster communication, understanding and dialogue between our communities and the broader Penn community. PRISM serves to represent the diverse set of religious communities to the, the Chaplain, the West Philadelphia community, the students and the administration.
For more information contact our 2018 PRISM Chair Aliya Farmanali or connect with PRISM on their Facebook page