Welcome to Daily SPARC – each weekday our chaplains, friends from the Penn Religious Communities Council and other voices from campus will be posting messages of support and encouragement.
Today's message is from our University Chaplain Chaz Howard:
Quiet For Now (A Reflection from Campus)
Just outside of our office, there is a dance studio.
I pause and remember the rehearsals that once filled this now quiet and dark room.
And it's hard not to cry.
So I let myself.
And then I smile
imagining and knowing that someday, students will again fill this space and dance
with moves my legs can no longer do,
to music my ears can barely understand.
I leave Houston Hall and see empty tables outside in Perelman Quad.
I pause and remember the lunches and conversations that once filled this now silent space.
And it's hard not to cry.
So I let myself.
And then I smile
imagining and believing that someday, students and colleagues will bring food from trucks to eat in the warm sun and sit together,
smiling at future Quakers on admissions tours.
I walk to my car, which is parked in front of The Palestra and Franklin Field.
This time of day usually finds the finest group of student athletes in all of college sports competing or getting ready to compete.
It's quiet now. No whistles. No cheering. No relays. No spring championships.
I feel an aimless anger boil up in me.
It's hard not to cry bitter tears.
So I let myself.
And then I look upwards
Imagining and praying, that it all would someday come back again.
That we can sing "The Red and Blue" once more after winning games in the
Cathedral of Basketball,
that we can throw toast again, that we can march into Franklin Field wearing caps and gowns and celebrate.
Celebrate.
And now while quarantining and social distancing at home,
I keep going
back to the future
celebration that awaits.
I look at the present and cry
– yes –
But I – we – must keep looking to the future as well.
We will dance again.
We will break bread and sit together.
We'll play and cheer together.
Study together,
Chalk Locust Walk together,
Stay up late and talk about life together,
Grab a late-night snack at Wa Wa together,
Sing together and
Someday remember this painful season together…
We'll pause and cry
And let ourselves.
Perhaps they'll be tears for what and who has been lost.
Perhaps they will also be tears of joy for a world and a campus that has come back together.
And we'll celebrate. Someday. We'll celebrate.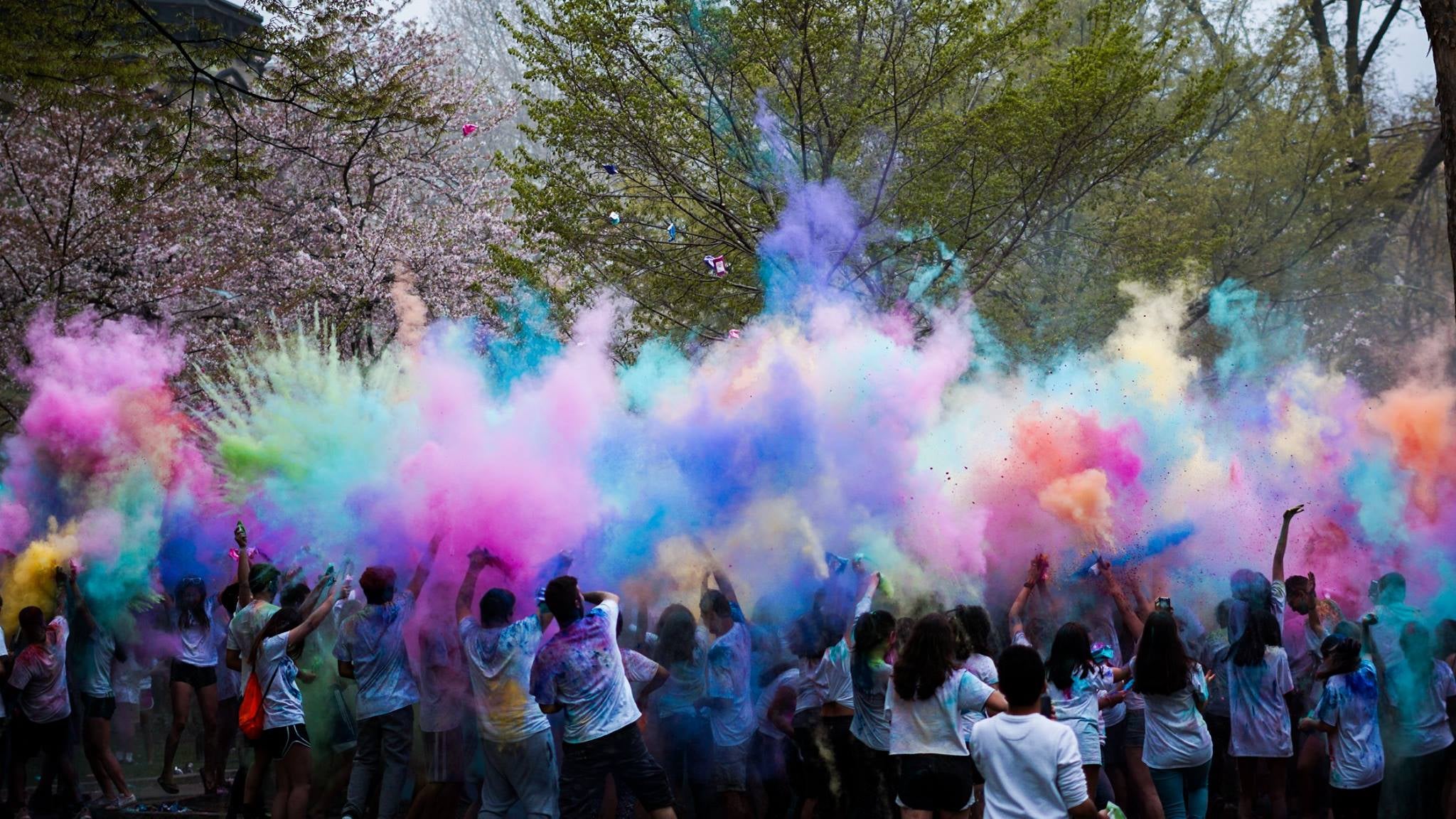 Image from the Holi 2019 Celebration on College Green